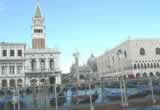 Why was Venice built on water? And when was it built? How could it survive unconquered for 1,000 years, with the most stable and long-lived political system after the Roman Empire? Why does St. Mark's Church look so Oriental? What were the achivementes of the Venetian Painting? Is Venice sinking?...
People are left astound and bewildered by this unusual city. Often, however, they leave with many questions unanswered.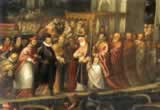 This is why City Tours in Venice has produced a variety of tours intended to guide English speaking visitors through the main historical events, the most significant sights and the most important achievements which accompanied the thousand years existence of the Most Serene Republic, as Venice liked to address herself.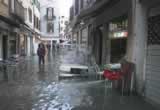 Our tours will also look at curious aspects, and at al the problems the city faces in the 21th Century, like floodings and flood gates, the damages caused by motorboats, the interventions that are in progress to cope with these problems.
See our 11 classic tours to discover Venice!
Tour 1: Highlights of Venice. All you must see in Venice in just ONE tour

This tour is very comprehensive and features all of the sights you should not miss in Venice. Ideal for first time visitors and for those who have limited time to spend in the city, but still want to get a real feeling of Venice: the most important historical and artistic aspects, real life, culture and crafts (and even typical cuisine if you want!) [More Details...]
Tour 2: The Doge's Palace and the Golden Church of St. Mark

This tour will take you through the Halls of Power of the Old Venetian Republic, where the Myth of Venice is celebrated by paintings of the greatest Renaissance artists. You will cross the famous Bridge of Sighs to see the Prison, and then will be dazzled by the glow of the golden mosaics of the Basilica of St. Mark [More Details...]
Tour 3: The notorious Secret Trails of the Doge's Palace

This is a very unusual tour that will take you to see the offices where red tape documents were written, filed and stored under the supervision of the Grand Chancellor. You will see the headquarter of the most organized Agency of the past, the torture chamber and the prison from where Casanova performed his legendary escape [More Details..]
Tour 4: Venetian Painting from the 14th to the 18th Cs

Five centuries of Venetian Painting arranged chronologically to offer an incredible journey through the evolution of Art in Venice. From the early still strongly Byzantine altarpieces of the 14th C, to the triumphant 18th C painting, testimony of the last century of the glorious Venetian Republic [ More Details...]
Tour 5: Life and Magnificence in 18th Century Venice

This is the most sumptuous and well preserved accessible old patrician residence along the Grand Canal, once the property of one of the most influencial noble family in Venice, who could count among his members even a pope. The richest collection of paintings, furnitures, ceramics, and tapestries of the 18th C Venice [More Details...]
Tour 6: Saint Roch's Brotherhood and the Frari's Church. How to gain fame and the Kingdom of Heaven

The most common way to gain prominence and influence in a city where individual fame was sacrified to the glory of the State, was benevolence. Pious and patriotic bequests earned public recognition and gratitude, and a...ticket to Heaven. Some of the most spectacular acts of charity were performed by groups like guilds or brotherhoods, called "scuole". [More Details...]
Tour 8: Unusual walk from St Mark's to Rialto

A nice walk through the off-the-beaten traks looking for hidden treasuries and genuine corners. From Saint Mark's through the narrow Venetian alleys we'll see the New Fenice Opera House (optional visit to the theatre on request), the Contarini Spiral Staircase, the Rialto Market and a tiny church hidden among stalls and shops [More Details...]
Tour 9: Venice viewed from the water. The Sunset Tour

The best way to appreciate Venice is definitely from the water point of view.
This tour offers a unique opportunity to enjoy all the best scenarios Venice presents, while sitting comfortably in a luxury waterborne taxi. You will see the Lagoon, the small and silent canals and the Grand Canal with its majestic palaces [More Details...]
Tour 11: An unforgettable day in Venice - 3 different options

City Tours in Venice has conceived 3 different combinations of tours to discover Venice in 1 day. These tours are ideal for visitors who can only spend one day in Venice, and want to make the most of it, getting a real taste of Venice, and of its natural and artistic treasuries.
[More Details...]