Venetian Painting from the 14th to the 18th Centuries: the Accademia Galleries
The Accademia Galleries house the world's greatest collection of Venetian paintings in existence: from the earliest masters of the 14th C, when the traditional allegiance to Byzantium gradually gave way to Gothic, up to the last outbreak of artistic genius in the 1700.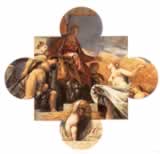 The collection is arranged chronologically and offers an unforgettable journey though the Venetian artistic evolution, with the outstanding examples of the huge story-telling paintings of Carpaccio, the several serenely tender Giovanni Bellini's Madonnas, the enigmatic canvasses of a genius like Giorgione.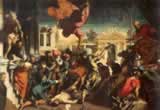 You will admire the three greatest masters of the Venetian Renaissance – Titian, Veronese and Tintoretto- who dominated and shaped the tradition of local painting with their peculiar aesthetic values – and eventually the glorious artists of 18th C, who accompanied the Republic of Venice to its end.
Duration: 2 hrs
Admission fees:
Regular: 15,00 €
Students 18-25 years (only E.E.C citizens): 3,25 €
Senior E.E.C citizens over 65: free (ID required)
Tour price:
Private tour up to 8 persons: 150 euros + admission fees
Group rate on request
The price includes: the service of a certified tour guide
The tour cannot take place on Monday afternoons, as the Galleries are closed