From the Square of St Mark to the Rialto Market through the off-the-beaten tracks.
This is a nice walk which will take you from St Mark's Square to the Rialto market following some of the off-the-beaten tracks of Venice. Walking through some of the typical narrow alleys of Venice, you will firstly come to see the relived Fenice Opera House rebuilt after it was gutted by fire in 1996 a visit to the Opera House can be included if booked in advance, and it's subject to availability).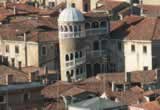 We will then continue looking for the whimsical Contarini del Bovolo Spiral Stair, tucked in a tiny courtyard, with its ranks of arches curling up five storeys. This is one of the most remarkable and fantastic examples of late 1400 architecture in Venice. In the garden we will see a nice collection of medieval well-heads, including one fine 11th c Byzantine specimen.
Crossing over the Bridge of Rialto you will admire a spectacular view of the Grand Canal at its most dramatic bend.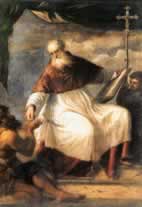 The Rialto market – once the centre of commercial and financial activity - is still a fascinating place of history, where you find many testimonies of the ancient activities.We will stroll through the colorful scene of the Market, where the stalls record the procession of the seasons, and see greengrocers, vendors of cheese, freshly made pasta shops, florists, and the fish market stalls
And in the end, the astonishing tiny church of San Giovanni Elemosinario (John the Almsgiver), where an outstandingly fine work of art by Titian is preserved and where, on the altar of the ancient Guild of the Poulterers, a painting shows them worshiping the Virgin Mary, together with their chickens.
Duration: 2 hrs
Admission fees:
San Giovanni Elemosinario: 3,00 €
Tour price:
Private tour up to 8 persons: 140 euros + admission fees
Group rate on request
The price includes: the service of a certified tour guide