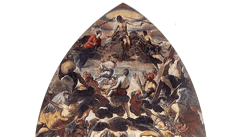 Gothic Venice: Ca' d'Oro and Madonna dell'Orto
The Grand Canal, as the "main Street" of the city, was meant to impress foreigners and delight natives. We have only a dim sense of what the canal looked like in the past, when the "case" that lined it had painted fronts, frescoed by major artists. The building that gives us some idea of the sumptuous façade from that time is the House of Gold, built between 1421 and 1433. The Ca' d'Oro was gilded and polychromed. Expensive lapis lazuli paint made the gold stand out more effectively.

Ca' d'Oro (the House of Gold) is a well preserved example of a Venetian Gothic merchant's home and it contains a rich collection of paintings, frescoes, bronzes, sculptures and tapestries. From the palace balcony you will enjoy a view of the Grand Canal and its water traffic as well as of the colorful Rialto Market.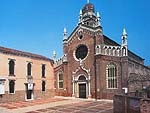 We will continue walking through the quiet and genuine neighbourhood of Cannaregio, passing bridges, canals and fondamenta, we will reach the Madonna dell'Orto Church, one of the most important Venetian Gothic buildings. The painter Jacopo Tintoretto lived just around the corner, and chose this Church, where he left many important masterpieces, to be his burial place.
Duration: 2 hrs
Admission fees:
Ca' D'Oro:
Regular: 5,00 €
Students (only E.E.C. citizens) 2.50 €
Senior E.E.C. citizens over 65: free
Church Madonna dell'Orto: 2.50 €
Tour price:
Private tour up to 8 persons: 140,00 euros + admission fees
Group rate on request
The price includes: the service of a certified tour guide