From St Mark's square to Rialto: what you don't usually see when you walk through the most popular alleys of Venice
You probably won't believe it possible: walking down the most "people-jammed" alleys of Venice, where you might have already gone through several times (shopping!), and seeing things you would have never thought to find there.
Giustina Rossi at the window will watch you passing by: she is the famous "vecia del morter", who helped to thwart the conspiracy of Baiamonte Tiepolo in 1310, by dropping a stone mortar onto the head of the standard-bearer, thus plunging the conspirer in total confusion.
The Church of San Salvador stands at the end of the Mercerie (Merchandise Street), containing 2 painting by Titian: the Transfiguration of Christ and the Annonciation of the Virgin Mary.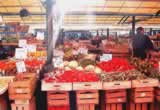 We will stroll around the colorful scene of the Rialto Market, where the stalls record the procession of the seasons, walking through greengrocers, vendors of cheese, freshly made pasta shops, florists, and the fish market stalls, trying to discover the ancient edicts aimed at controlling commercial trade.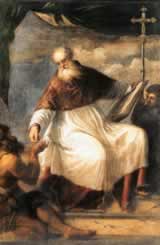 Rialto market – once the centre of commercial and financial activity - is still a fascinating place of history, where you find many testimonies of the ancient activities. The small church of San Giacomo, with its huge clock-face on its façade, was the place of worship for merchants who would pray for honest but profitable business.
Another surprise will be the close by astonishing church of San Giovanni Elemosinario John the Almsgiver), a little jewel that cannot be detected from the street side. There an outstandingly fine work of art by Titian is preserved together with other paintings, among which one by Pordenone and, on the altar of the ancient Guild of the Poultry dealers, a painting depicting the member dealers worshiping the Virgin Mary together with their chickens.

Duration: 2 hrs
Admission fees:
Church San Giovanni Elemosinario: 2,50 €
To see the market at its best, we advise a weekday morning tour.
Tour price:
Private tour up to 8 persons: 140,00 euros + admission fees
Group rate on request
The price includes: the service of a certified tour guide