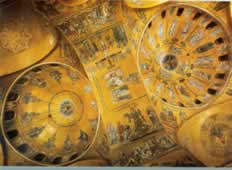 Byzantine Venice 1: Middle Age Mosaics in Venice, Murano and Torcello – full day tour
In its earliest days Venice was a province of the Byzantine Empire. Though soon emerging as an independent state, the cultural and artistic influences of Byzantium on Venice were to remain evidently strong for many centuries to come. Byzantine artists were often invited to Venice to produce the rich decoration for its most important IX C churches and a considerable part of those early fascinating genuine Byzantine mosaics is still preserved in Venice and its lagoon. We'll begin from the most known and visited mosaics in Venice, those draping the walls and domes of the basilica of St Mark, and we will learn about the characteristic and symbolism of these mosaics.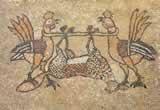 Then we'll reach the island of Murano by boat to visit the church of Santa Maria and Donato with its unbelievable mosaic floor, the cryptic symbolism of which has been recently revealed.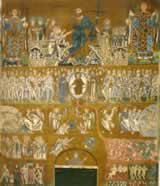 Torcello will be the next and last stop. Here the first refugees who were escaping the barbarian invasions founded the very first lagoon settlement. The church Santa Maria Assunta is the oldest building preserved in the Venetian lagoon, and contains the most beautiful mosaics you can see in Venice like the huge Last Judgment that will be described in all its fascinating and curious details.
From Torcello the boat will take us back to Venice
Duration: Full day tour 7/8 hrs - The tour requires public or private waterborne transportation
Admission fees:
4,50 € Golden Screen and Museum of St Mark's Church
3,00 € Basilica of Santa Maria Assunta in Torcello
Tour price:
Guide service for parties of up to 6 people: 580,00€
Public Transport: 10,50 per person
Private water taxi for parties of up to 6 people: 550,00 €
Group rate on request
Optional:
Visit to a glass blowing factory in Murano island
Lunch in Torcello at the famous Cipriani or, alternatively, another good typical restaurant.