Castello: the old Shipyard, San Francesco della Vigna and Santi Giovanni e Paolo
Starting from St Mark's, we will soon leave behind us the madding crowd of the Square to venture ourselves in the quiet and charming little alleys of the district of Castello.
Passing several bridges and small "campi" we'll get to the entrance of the ancient Arsenale, the vast, walled dockyard where galleys, the pride of the Venetian fleet, w ere built and fitted out. We will relive the glorious sea victories that transformed Venice from a small city state into a vast Empire which extended to the Eastern Mediterranean.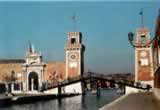 The Arsenale (after the Arabic Dar Sina'a = house of construction) was for centuries the largest and most efficient industrial complex in Europe. Run as a strictly controlled government monopoly, it pioneered methods of assembly-line basis construction to produce the galleys on which Venetian trade and naval power depended.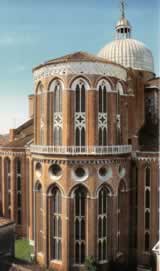 Continuing we will reach the church of San Francesco della Vigna, a slice of the Renaissance lost in a remote corner of Venice, named after the vines planted on this site at the middle of the 13th C. when the area was donated to the Franciscans. The present church planned by Sansovino, was then given a façade by Palladio that was much copied for centuries in and around Venice. We will see several important paintings, including one by Veronese.
Next will be the campo and the grandiose Gothic church of Santi Giovanni e Paolo, known by the Venetians as San Zanipolo, commanding attention for its numerous works of art, including a polyptic by Giovanni Bellini and several canvasses by Veronese.
Duration: 2 hrs
Admission fees:
Church San Giovanni and Paolo: 3,00 €
Tour price:
Private tour up to 8 persons: 140,00 euros + admission fees
Group rate on request
The price includes: the service of a certified tour guide