The Heart of Venice: the Doge's Palace, the Basilica and St Mark's Square
Saint Mark's Square, once the administrative heart of the Venetian Republic, is a spectacular piece of town planning offering a dramatic impact both for the carefully situated monumental buildings, and the reflective waters of the lagoon basin.
The Doges' Palace (Palazzo Ducale) was the core of political life in Venice. The palace was not only the residence of the elected doge, but also the meeting place of the republic's governing councils and ministries.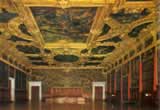 Its chambers and staircases were richly decorated by a succession of Venetian artists and craftsmen, and its paintings evoke the "myth of Venice" and illustrate its past glory and power.
On the east side of the palace runs a narrow canal spanned by the celebrated Bridge of Sighs, which led to the state prisons. Today considered one of the most famous monument in Venice, it owes its fame to Lord Byron's "Childe Harold", a poem that spread over the bridge a melancholic and legendary romanticism.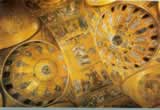 The splendid church of St. Mark, founded in 829 and rebuilt in the 11th C, was traditionally the private chapel of the doges and effectively a political building. Its architectural design is Byzantine, with five vaulted domes set in a Greek cross. The interior glows with light reflected from its golden mosaics, its marbled pavements, and its columns and polished marble panels.
Duration: 2 hrs
Admission fees:
Doge's Palace: 18 €
Golden Screen and Museum of St Mark's Church: 11,00 €
Please Notice: the admission ticket is also good to see the Correr Museum and the Library (classic tour 7)
Tour price:
Private tour up to 8 persons: 150 euros + admission fees
Group rate on request
The price includes: the service of a certified tour guide